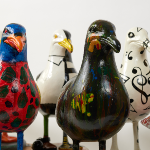 John Hansard Gallery presents Koestler Arts: Standing on the Edge
Age suitable for: All ages
Alongside Koestler Arts, John Hansard Gallery are proud to present Standing on the Edge, an exhibition showcasing artwork from the criminal justice system.

The exhibition was co-curated by ten learners at HM Prison Isle of Wight, who selected the 80 exhibited works out of more than 1000 from this region during four curating sessions with Koestler Arts in the prison's art class.

Koestler Arts is the UK's best-known prison arts charity. They have been championing and exhibiting artwork from the criminal justice system for over 60 years. This exhibition will showcase artwork, music and writing from across the South West and Hampshire.