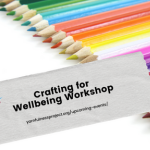 Crafting For Wellbeing | Workshop
Age suitable for: All ages
Crafts such as knitting and crochet, and other creative activities like colouring-in and drawing, have been said to promote good mental health and wellbeing. Research from our group and others has demonstrated that when these activities are done in a purposeful and mindful way, they can improve well-being and reduce stress, across cultures and societal groups. Our workshops aim to demonstrate 'mindful crafting' and encourage you to support your wellbeing using these activities.

Locations:
- Crafting for Wellbeing at Portswood Library (Portswood Road, Portswood, SO17 2NG) - Tue, 7 Nov 2023, 13:30 - 14:30
- Crafting for Wellbeing at Shirley Library (Shirley Precinct, Shirley, Southampton, SO15 5LL) - Tue, 14 Nov 2023, 13:30 - 14:30

---

This event is part of the ESRC Festival of Social Science 2023 and was made possible thanks to funding from the Economic and Social Research Council (ESRC), which is part of UK Research and Innovation (UKRI).