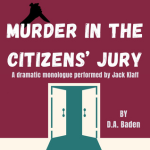 Murder in the Citizens' Jury | A 25 minute dramatic monologue with Q&A
Accessibility alert:
Potentially upsetting content
Darkened spaces
Murder in the Citizens' Jury is a dramatic monologue set in a citizens' jury where eight people debate climate solutions. A murder threatens the status of citizens' juries themselves. It is a drama exploring the ethical crisis of the Director of Public Prosecutions who has to decide whether to prosecute a murder. If he does so, he will alienate his family, and it will mean the end for citizens' assemblies - a form of direct democracy which many believe could be the silver bullet to avert a climate crisis. The audience are invited to help the DPP make the decision via a voting app and slips on their free programme which provides more information.

The event will be live streamed from https://www.youtube.com/@greenstoriesuk/streams from 3pm 11th November GMT. You will be able to view the performance and Q&A and participate virtually in the Q&A via the chat function.

---

This event is part of the ESRC Festival of Social Science 2023 and was made possible thanks to funding from the Economic and Social Research Council (ESRC), which is part of UK Research and Innovation (UKRI).