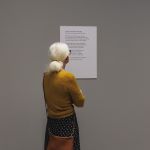 Koestler Voices | In conversation at John Hansard Gallery
Join Koestler Arts and researchers from the University of Southampton as they discuss the new anthology, 'Koestler Voices: New Poetry from Prisons Vol. 4'.

Koestler Arts is the UK's best known prison arts charity and have been championing and exhibiting artworks from the criminal justice system for over 60 years.

In partnership with Koestler Arts, the John Hansard Gallery is currently exhibiting 80 artworks, including poems, from the criminal justice system from the South West and Hampshire regions. The exhibition, Standing on the Edge, was co-curated by learners from HM Prison Isle of Wight.

Joined by the University's Dr Haris Psarras and Professor Steph Jones, Professor David Gurnham, Criminal Law & International Legal Studies at the University of Southampton will be presenting his own research into creative responses to the criminal justice system.

The event will begin with a presentation about the work of Koestler Arts from Phoebe Dunn, Director of Arts, as well as opening words from Professor David Gurnham, followed by a poetry reading from David Shipley who has previously won two awards from the Koestler prize. There will also be a conversation and Q&A with editors of the anthology.

Image: Standing on the Edge. Image taken by Nosa Malcolm.