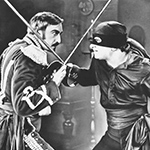 The Mark of Zorro | Film with Live Music at Turner Sims
Accessibility alert:
Flashing images
Darkened spaces
Hearing loop available
£18 (standard) | £9 (students and under 18)
The Mark of Zorro is an uplifting escape adventure. Its thrills would be copied the world over throughout the rest of the history of cinema.

Fred Niblo's The Mark of Zorro (1920) is classed as the world's first action adventure film. Not only did it give birth to a genre, but it established a new persona for star Douglas Fairbanks. Just like Fairbank's masked hero, the film catapulted him from standard film actor to one of Hollywood's first superstars. Elements of the film and Fairbanks' portrayal would later inspire Bob Kane's most famous of heroes, Batman.

Set in Spanish California, Fairbanks portrays Don Diego Vega. He is a comically effete young nobleman with a taste for tasselled sombreros and juvenile silk-hanky magic tricks. But when danger calls, Diego swathes himself in black, straps on a well-honed sword and storms the countryside as the mysterious Zorro. He slices his initial into the faces of the 'sentinels of oppression'. Diego's bold alter-ego gives him the courage he usually lacks to romance the woman of his dreams (Marguerite De La Motte).

This special screening is co-produced by Turner Sims with Southampton Film Week in partnership with South West Silents. Live musical accompaniment comes from pianist Meg Morley and drummer Emiliano Caroselli.