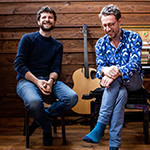 Bill Lawrence and Michael League | Live Concert at Turner Sims
Accessibility alert:
Loud sounds
Flashing images
Darkened spaces
Hearing loop available
£28 (standard) | £10 (students and under 18)
Snarky Puppy founder, multi-instrumentalist and Grammy winner Michael League joins forces with crossover piano icon Bill Laurance. They take us to an imaginary place full of beauty, peace and energy with their first duo album Where You Wish You Were.

Almost as an antithesis to the stadium-filling Snarky Puppy, the album has an intimate, atmospheric, melody-driven dialogue. League explores multiple timbres of acoustic bass, oud and ngoni against Laurance's lyrical piano.

Musical escapism, world jazz 2.0 and an invitation to a place where we wish to be.