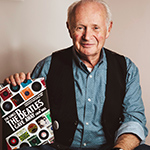 Bob Harris and Colin Hall : 'The Songs the Beatles Gave Away' | In conversation at Turner Sims
Accessibility alert:
Loud sounds
Flashing images
Darkened spaces
Hearing loop available
£20 (standard) | £10 (students and under 18)
By 1963 Lennon and McCartney had written so many songs they simply couldn't all be accommodated on just their own Beatles releases. It made artistic and economic good sense to offer them to other artists for recording. The Merseybeat boom of 1963 & 1964 gave them a tailor made outlet, with artists such as Cilla Black, Billy J. Kramer and Tommy Quickly. This is the story behind those songs, the hits, the misses and the demos that the group never released: 'The Songs The Beatles Gave Away'.

2023 marks 60 years since The Beatles' first performances in Southampton. Join us for an evening of conversation and film with the BBC's Bob Harris and author/music journalist Colin Hall.