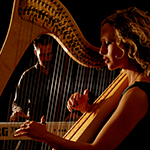 Fitkinwall Harpland | Live Concert at Turner Sims
Accessibility alert:
Darkened spaces
Hearing loop available
£20 (standard) | £10 (students and under 18)
Beautiful harp and incredible keyboard from Goldfrapp and Kathryn Tickell harpist Ruth Wall and composer and electronics wizard Graham Fitkin.

Ruth's explorations into the history of the Scottish Highlands where she grew up are at the heart of this show. The forced eviction and subsequent migration of farmers and crofters from the highlands, as part of 'the clearances' which benefited wealthy Southern sheep farmers, provides the central focus.

Graham's haunting new versions of traditional Scottish tunes explore themes of loss and longing. These are written for Ruth's three harps - the sitar-like Renaissance bray harp, the beautiful medieval Gaelic wire harp (cląrsach) and the Scottish lever harp.

Expect mesmerising Gaelic song, fiddle and pipe tunes.