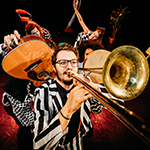 Winter Family Day at Turner Sims
Age suitable for: All ages
Accessibility alert:
Loud sounds
Flashing images
Darkened spaces
Hearing loop available
Celebrate Turner Sims' 49th Birthday with a FREE Family Day packed with music adventures. Join us for performances of Rhymes LIVE!, workshops by Southampton Centre for Music Education and Social Justice and the Department of Music, drop in craft activities and face painting.
Everything is free but please book tickets for Rhymes LIVE!
For families with children aged 0-8 years.
Head to the
Winter Family Day programme page
on the Turner Sims website for the full schedule.