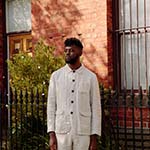 JAZZ | Ashley Henry at Turner Sims
Age suitable for: All ages
Accessibility alert:
Loud sounds
Hearing loop available
Darkened spaces
Turner Sims are delighted to welcome South London pianist Ashley Henry with his trio. One of a new generation of musicians that have been raised with a wide range of influences, Ashley is clearly influenced by hip-hop but has his roots firmly in jazz.

Having recently embarked on world tours with Loyle Carner and Christine & The Queens, Henry has a rapidly growing international profile.

'My music is a straight-up reflection of who I am; London in all its mixed-up glory. The immigrant in me has musical roots traced back to the 1940's, so it's important my music reflects that jazz narrative across different genres and generations.'

Following the success of the 26-year-old's Easter EP, the genre-blurring pianist heads to Turner Sims with music from his debut album Beautiful Vinyl Hunter.