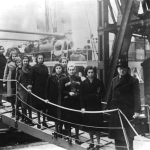 Follow the journeys of 5 refugee children as they leave their homes, travel to the U.K. and beyond, in this interactive activity facilitated by members of the Parkes Institute for the Study of Jewish/non-Jewish Relations at the University of Southampton.

The Kindertransport (translation: Children's Transport) refers to the bringing of children out of Nazi-occupied Europe to countries of safety in the months before the Second World War. Kindertransports went to countries including Denmark, France, Palestine, but the largest and most well-known, and subject of this activity, is the Kindertransport to the UK, which brought approximately 10,000 children.

In this activity, you'll be given the name of one of these Kinder and you'll move around the room visiting different spots to learn more about their journey. You'll learn about the different experiences of these kinder, and view related objects and archive material from the University of Southampton's Special Collections and Activity related to their journeys.

This interactive activity will be complemented by an online digital exhibition where you can view digitised copies of these sources and learn more about the lives explored in the interactive session.