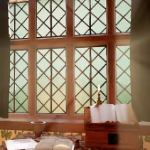 Wonder what a living room might have been like 400 years ago?

Experience an immersive recreation of a parlour room from Elizabethan and Jacobean England.

The Middling Culture project (funded by the Arts and Humanities Research Council) has created this full test version of a unique virtual experience. The design is based on meticulous historical research, modelled by a digital heritage artist, and brought to life with voices and memories by current writers and performers.

You will be able navigate your way around the room via virtual reality, interacting with its objects and their stories. Our parlour is based on a real room from a house in the town of Reigate in Surrey and now part of the Weald & Downland Living Museum.

In seventeenth-century England, the parlour was the most important room in the house. It was used for lots of different activities-eating and drinking, reading, writing, sewing, entertaining, and hosting.