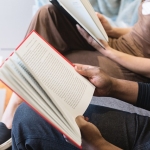 Every year a group of University of Southampton student ambassadors in Widening Participation and Social Mobility (WPSM) support young people in Southampton to feel more confident with reading and to develop a love of literature through our Access activities 'Reading Buddies' and 'Books and Stories'.

You are invited to come along to our story time to hear our students read the stories they have shared with other young people in Southampton. You can sit down with them in the reading nook (Rm 1167) at the following times:

- 11:40 - 12:20
- 13:40 - 14:10
- 15:10 - 15:50

While you are there, you can also take part in our 'Design a Bookmark' competition. A winner will be chosen and a copy of their bookmark will be given to school students across Hampshire. The winner will also receive a book voucher to buy your own book of choice!