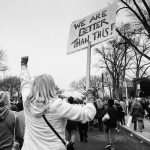 Disease, Discrimination and Public Engagement | Talk
Age suitable for: All ages
Accessibility alert:

Potentially upsetting content
Hearing loop available
Deadly illnesses have frequently been invested with a great deal of symbolic and cultural significance. This year students from Medicine and Humanities worked together to understand how various diseases and conditions (AIDS, cancers, obesity, Covid-19, and mental health issues and illnesses) became metaphors for rejection and marginalisation. They analysed the ways in which cultural, medical, political and societal discourses can entwine and impact on the self-representations of the patients. As well as exploring disease-related discrimination and its impact on the self, they examined anti-discrimination strategies and developed socially and politically responsive public engagement project.

They worked for eight weeks to create public engagement activities through a variety of forms (posters, exhibitions, educational material for schools, websites), and they are now presenting their campaigns to the public.


Presentation by the students of their anti-discrimination campaigns.

The students worked on real anti-discrimination campaigns and the festival is the opportunity for them to present them to the wider public.