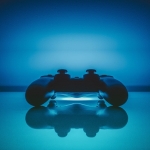 Come see exciting new technologies and recent projects from the Games Design & Art and Creative Computing programmes at teh Winchester School of Art.

Discover a range of exciting hands-on demos that showcase both the technologies used and the outcomes from student and staff projects.

In this open session, you will be able to experience a plethora of analogue and digital games, interactive installations and new technologies including micro to macro imaging, VR and mixed reality, robotics and more!