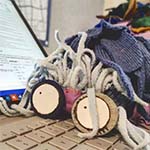 Creative AI in the robot zoo
Age suitable for: All ages
AI and robots are set to play an increasingly important role in our everyday lives. Will they be human-like in appearance or intelligence, or quite different from us - more like toys, pets, and other animals?

In this workshop you play with and program animal-like robots and toys.

What new relationships of play, work and care between people and machines can you imagine?

You will test their limitations and design new possibilities for a future of life with technological creatures.