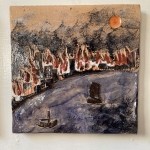 Have you ever thought about how much history a humble brick holds?

Come along to The Brickworks Museum stand to find out more about this everyday item and it's link to 1666.

We've got a hands-on sorting activity using our Great Fire of London education kit and the chance to enter a competition to win a Family ticket to the museum.

You can talk to us about the only remaining steam-driven brickworks in the country, our programme of events and the benefits of volunteering.

Get up-close with a couple of our bricks and takeaway a hand-pressed paper memento.