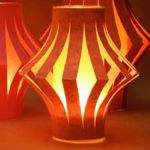 Beautiful lanterns are seen during Chinese festivals.

Historians believe that the Chinese first began making the now traditional lanterns during the Eastern Han Dynasty (25-220). The original use of lanterns was primarily as a light source. They were used both indoors and out to provide a shaded light for reading and working. The protection from wind provided by the decorative silk or paper shade kept the lanterns from going out in the breeze.

Today, lanterns are used to decorate homes and public places.

This hands-on activity will provide you with tutorials on how to make a lantern and you will have your own art product to take home!